Armattan Japalura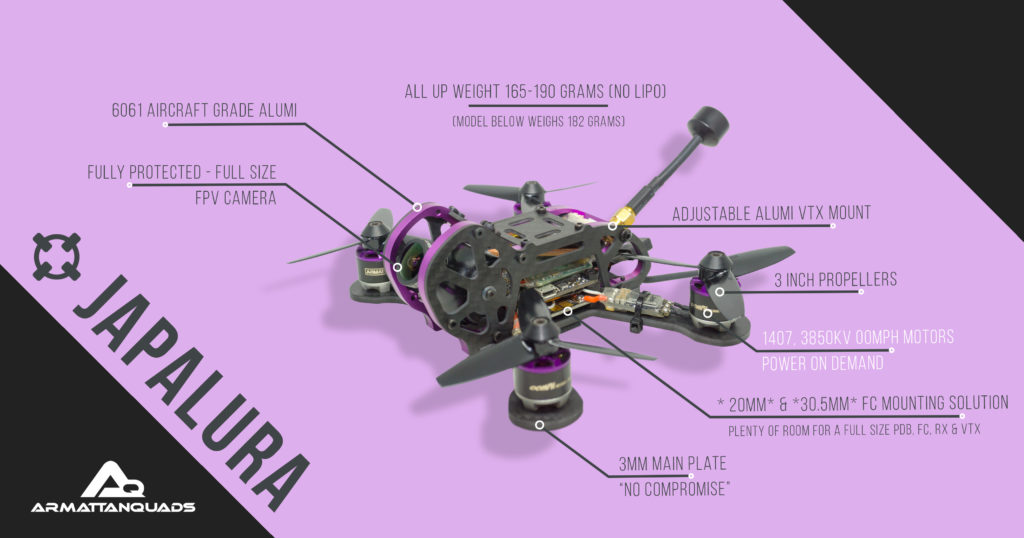 Good things come in small packages.
According to teldap.tw, Taiwan's Japalura Breuipes is an arboreal (lives in trees) lizard that can grow to be a foot long.  Interestingly, new research into the island's jungles has provided a glimpse of a new relative of our lovely local lizard.  This recently discovered creature measures 138 mm diagonally, and incorporates metal with its largely carbon-based body.  Fortunately for many of the collectors who have expressed interest in the organism, this little one prefers to keep its feet firmly planted on terra firma.  We call this new lizard the Japalura.
What is it?
As the "younger sibling" to the Chameleon, the Armattan Japalura is the fanciest micro frame around, and the second design in Armattan's selection that features aluminum protection.  Inspired by many of the same principals as the Chameleon, the Japalura is a lighter, more compact package that still supports many of today's FPV standards. This "3 inch" frame can handle full-sized miniquad guts, houses your standard HS1177 camera, and shields everything but the battery with two 4mm thick 6061 aluminum ribs.
As with any Armattan release, some of the best features of this frame are the lack of restrictions you have when building.  For example: like usual, the Japalura supports a 30.5mm center stack up to 28mm high.  In addition, the adjustable angle on the aluminum VTX mount supports a variety of transmitter options.  Another feature is the option to mount the battery on the top or the bottom of this machine, just in case you have a strong preference. Lastly, if built with an eye on the weight of all the components, you ought to be able to skate by underneath the United State's FAA Registration restriction of 250g.
And that crucial Armattan warranty?

The Japalura has been constructed to Armattan standards, and we believe the frame is tough enough to warrant a top-to-bottom warranty. (HAH, see what we did there?) This baby is covered from the aluminum roll bars down to the smallest of top-plates.
Included
1x 3mm Main Plate
2x 2mm Side Plates
1x 2mm Big Top Plate
1x 2mm Small Top Plate
2x 4mm Aluminum Side Braces
1x Aluminum VTX Mount
2x M3 8mm Bolts
4x M3 12mm Bolts
20x M2 5mm Cuphead Bolts
8x M2 8mm Cuphead Bolts
4x M3 6mm Nylon M/F Standoffs
8x M3 Nylon Nuts
2x M2 Nylon Washer
1x LiPo Strap
1x Foam LiPo Pad
4x Landing Pads (2 each large/small)
1x set of Build Instructions
Japalura Specs

Frame Weight
51g
Motor to Motor
138mm (M2 bolts)
Frame Shape
Freestyle Bus
Bottom Plate Thickness
3mm
Other CF Thickness
1.5mm
Aluminum Parts
Aircraft Grade 6061
Motor Mount Pattern
13xx
Center Stack Mount Pattern
30.5mm or 20m
Max Center Stack Height
28mm
Warrantied Parts
Top-to-bottom (all)

Recommended Components

Motor Sizes
1407/3500-4000kv
ESCs
12-20a
Prop Size
3″
LiPo
3S-4S/650-850mah