The HUBOSD eco has been engineered to provide the highest possible performance and reliability in a 46*36mm & 4 layers PCB.
It is a multifunctional HUB with PDB, BEC 5V/2A &12V/500mA, Current sensor 140A, STOSD8. It is specially made for the mini FPV Quad.
The BEC 12V is linear regulator, no LC Filter needed. Built-in STOSD8 can support Plug & Play, no complicated settings needed.
Specification:
Brand name: Realacc
nput voltage range (3S-5S operation): 8 – 21VDC
PDB: 4x30A (Max.4x35A)
Regulated 5V and 12V outputs
Current Sensor 140A
Built-in STOSD8
Physical:
– 2oz copper, 4-layers &1.6mm PCB.
– 1x Battery input, 4x ESC outputs.  2x BEC 5V outputs, 2x BEC 12V outputs.
– Camera signal & Gnd pads, Video Transmitter Signal & Gnd pads
– 1x Serial port (RX, TX, G)
– Dimensions: 46x36x4mm, Weight: 8.5g
– Mounting holes 30.5mm square spacing
PDB (ESC outputs)
Continuous current: 30A per output
Peak current (10 seconds/minute): 35A per output
BEC 5V outputs
Designed for RC Receivers, Flight controllers, OSD, and Servos.
DC/DC synchronous buck regulator.
Voltage: 5.0 +/- 0.1VDC
Continuous current: 2 Amps (Max.2.5A 10s/minute)
Output Ripple: 40mV (VIn=16V, [email protected] load)
Short-circuit tolerant (5 seconds/minute)
BEC 12V outputs
Linear regulator, very low noise. LC Filter is needless.
Designed for Video TX or FPV camera.
Voltage: 12.0 +/- 0.3VDC (4~5S operation)
Continuous current: [email protected] IN,  [email protected] IN
Short-circuit tolerant (2 seconds/minute)
If the battery is 3S LiPo,  Output voltage=3S LiPo voltage – 1V
Current Sensor
140A
If current >140A. STOSD display 140A
STOSD8
Running indicator
Blue LED blinks: STOSD is initializing
Blue LED light: STOSD is working.
Autodetect PAL/NTSC
Auto sense PAL / NTSC cam at OSD startup. Default is NTSC without Cam signal
Dynamic on screen info
Current < 2A & keep 5 seconds                     Current > 2A
Min.Volt & Max.Amp recorder

Automatic flight timer
Current > 2A, Time in.  Current < 2A,Time out..
Auto battery cells detection
If the Input voltage is in the range of following, The HUBOSD will detect the cell
numbers automatically.
11.1~13.05V: 3cells LiPo,  14.8~17.4V: 4cells LiPo,  18.5~21V: 5cells LiPo
If the input voltage is out of the range. The voltage value will blink on screen.
Pls check if the battery total voltage is below 3.7V*cells
Low vlotage alarm
(Value blinks): Default 3.6V* cells
Exceeding mAh alarm
(Value blinks): Default 1000mAh
Onscreen Pilot ID
Default is disable. you can type some words & enable it in GUI
Firmware upgradable
Voltage precision: +/- 0.4%, Voltage resolution: 0.01V
Current precision: +/- 1.5%, Current resolution: 0.1A
User Manual, Click here.
Package Included:
1 X BEC board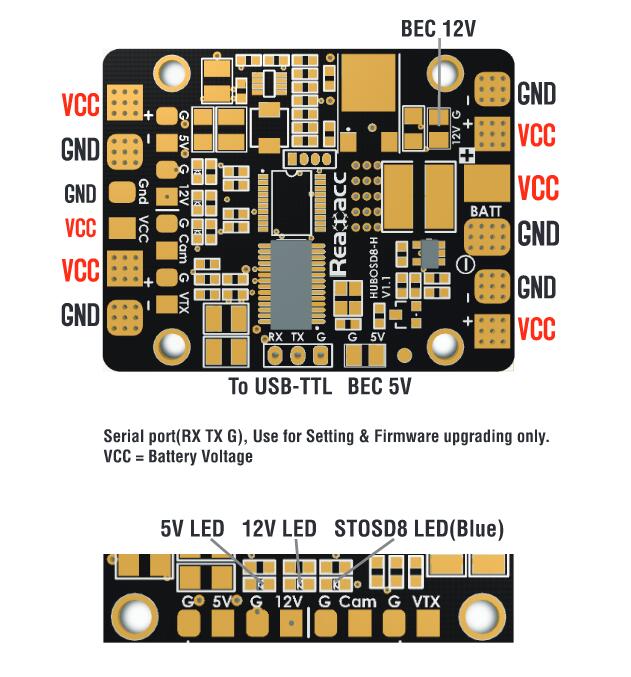 [jaw_image image="https://www.lethalfpv.com.au/wp-content/uploads/2017/04/f418e9c6-6fdd-4c7d-a91d-0d0ae632af63.jpg" lightbox="1″ link="#" target="_blank" hover_image=""]