The latest Electronic Speed Controller (ESC) from Spedix the GS35 4in1 (2-4S).
This board is four (4) 35A ESCs on one board. This is great for centralizing your mini-quad's weight (getting the ESCs off the arms), reducing weight and simplifying your build. Great for smaller quads where space on your arms is limited and weight is a premium.
The GS35 4in1 is equipped with a current shunt, allowing your FC to read the current readings via an ADC (or CURRENT IN) without having to loop through the FC's current sensor (if it has one).
No BECs are included on the board but two VBAT outputs are provided in the break out for easier installation. NB: Please ensure your Flight Controller supports LiPo power in (2-4S). If in doubt use a 5V BEC to power up your flight controller.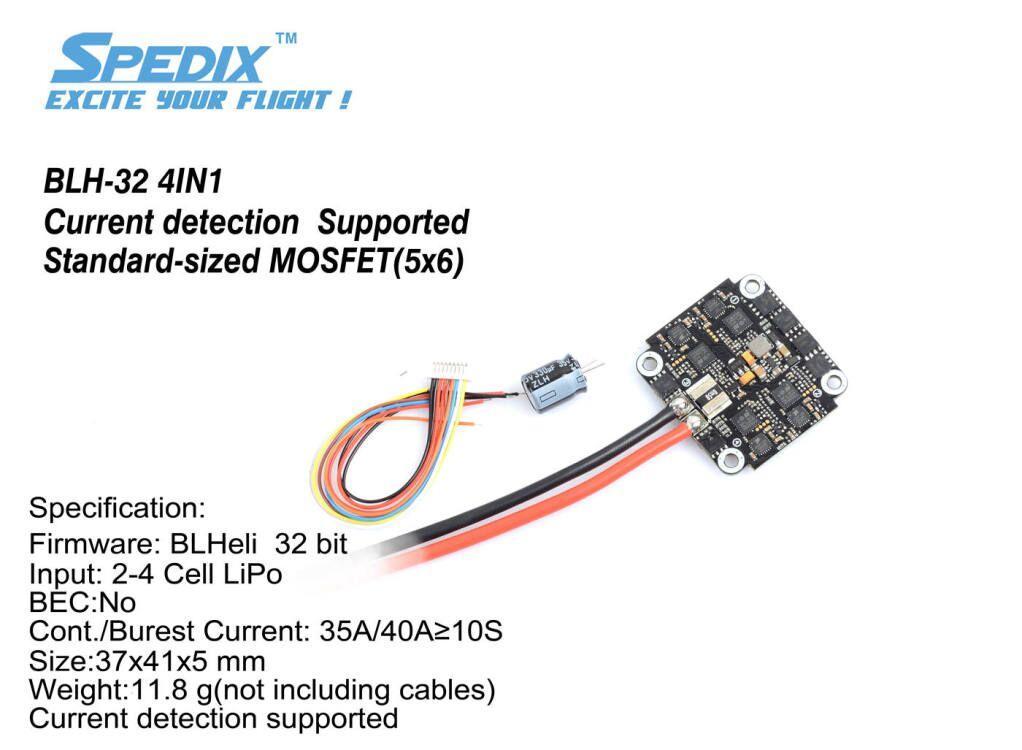 SPECIFICATIONS:
Model Number: SPX-71045
BEC: None
Rated Current: 35A
Burst Current: 40A (<10S)
Chipset: ST F051K66GH279U
Oneshot125 Support: Yes (not recommended)
Oneshot42 Support: Yes (not recommended)
Multishot Support: Yes (not recommended)
Dshot Support: Yes (up to DSHOT1200)
Bootloader: BLHeli
Firmware: BLHeli_32 32.1 (Firmware TBC)
Battery: 2-4S
Size: 37*41*5mm
Mount: Standard 30.5×30.5mm FC stack hole pattern
Weight: 17g (with battery leads, wiring harness and capacitor)
INCLUDES:
9 Wire Wiring Harness (GND GND BAT+ BAT+ ESC4,ESC3,ESC2,ESC1,CURRENT)
Pre-soldered Battery Leads
Rubicon 35V330uF Capacitor (recommended to be installed)
Manual